Tomteverkstan is swedish and means Santaworkshop. The company is actually called AB Ljungströms Svarveri and has its origin in the fourties. Arvid Ljungstöm who had come to Vetlanda to become a foreman at Alseda Woodrefinement started to manufacture flowerespalier among other things in his cellar at home. When Arvid was a trained turner a turn was procured and manufacturing of details for furnitureindustry started up.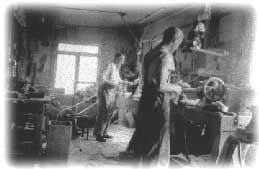 The cellar became too narrow and an old dwelling-house was bought and moved to it´s present place. During the years a couple of built out has taken place and 1980 the former room of Alseda woodrefinement was bought where the office and stock is today.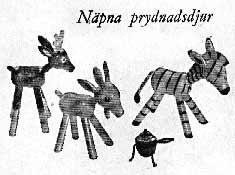 In time also turned handicraftarticles was manufactured and in the fifthies the figures came into it. But it wasn´t Santas who was topical in the beginning, but trolls. Trolls with bodies made out of sprucecones were very common. Those were exported to Germany.

From trolls the step to make Santas wasn´t far. By that the company found its niche and in time Santas became dominant in the manufacturing. Pretty soon a large export to USA started up. Despite that the volumes are not quite as big today, USA is still the largest exportmarket.


Today
Tomteverkstan is swedish and means Santas workshop. A lot of our manufacturing has been made as homework. Some woodworking and materials are put together and are distributed to capable homeworkers in the round abouts. Nowadays almost no lathing is done in our own management. Details made out of wood, as well as knitted attiring and skinn are bought from different places.

When the Santas comes back to our stock they are packed and delivered to our customers. Within Sweden the main part of the sale is directly to shops. Besides Santas, Vikings and Swedish figures are made. The company also is marketing a pretty big wholesale selection with mainly handicraftarticles made in Sweden.



USA is our largest exportmarket. The export is kept by a couple of exporters in Sweden who in turn sells to wholesale dealers abroad. Some of the Santas are sold as building kits to a couple of companies who deliver to therapysection at homes for aged people and so on.The enterprise which is the smallest part but perhaps the one who is most seen by public is our manufactory-shop. There are both articles from our manufacturing, articles from wholesale dealer selection and a large quantity of other handicraft- and giftarticles.